After the latest push from unions and federal labor advocates, the Canadian government is moving to ban asbestos by 2018.
Science Minister Kirsty Duncan announced the long-awaited news in late December.
The ban will apply to the manufacture of any products containing asbestos, as well as imports made with the deadly mineral. It could be extended to products already manufactured.
New Democrat Party Critic for Labour Sheri Benson introduced Bill C-321 in November to help speed the process. Despite a steep decline in global demand and Canada's last asbestos mines closing in 2012, the Canadian government continued to drag its feet on meeting international anti-asbestos standards.
"I was proud to introduce Bill C-321 in the House of Commons to build consensus amongst my colleagues that we need a ban in Canada and to let the Liberal government know that the time for action is now," Benson said.
Canada will join more than 50 other countries around the world that have banned asbestos.
Canada's Asbestos Usage & Need for a Ban
Asbestos is the leading cause of workplace-related death in Canada.
Deaths from mesothelioma, a rare respiratory cancer caused almost exclusively from asbestos exposure, increased 60 percent between 2000 and 2012. Experts estimate 150,000 Canadians are exposed to asbestos at work, particularly in construction and trade industries.
The Canadian Labour Congress (CLC), Canada's largest union, is celebrating the upcoming ban after launching a national campaign in 2015.
"We can all breathe easier," CLC president Hassan Yussuff said in a statement. "This is good public health policy that will, without question, save lives for generations to come."
Canada led world production of asbestos before the country's two largest mines (both in Quebec) halted operations in 2012. The closure marked the suspension of the country's asbestos production for the first time in 130 years.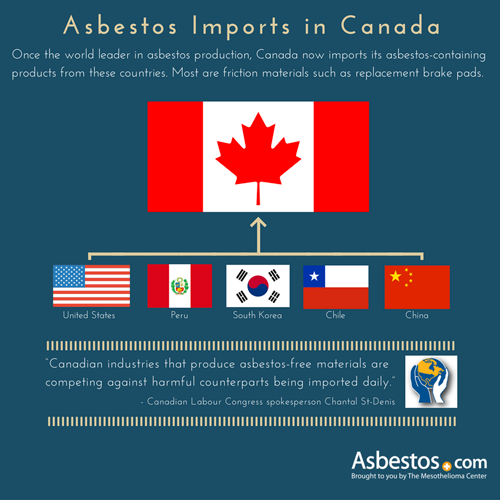 While Canada no longer exports asbestos, it continues to import asbestos-containing products.
According to CLC, Canadian imports of asbestos grew from $4.7 million in 2011 to $8.2 million in 2015. More than $6 million of the 2015 imports came from friction materials such as brake pads and brake linings.
The toxic mineral is banned in 56 other countries, including many of Canada's major trade partners such the United Kingdom, Germany, France and Japan.
"The top five countries that Canada currently imports asbestos friction materials from are the U.S., South Korea, China, Chile and Peru," CLC spokesperson Chantal St-Denis told Asbestos.com.
Asbestos-Free Alternatives Are Available
Currently, Canada's Workplace Hazardous Materials Information System (WHMIS 2015) excludes certain consumer products, such as brake pads, meaning many Canadian workers may be at risk for asbestos exposure and not even know it.
But St-Denis is quick to point out that asbestos-free alternatives, including brake pads produced in Guelph, Ontario, are available. Other common asbestos-containing products, such as ceiling tiles, can also be produced locally without asbestos contamination.
Get Your Asbestos Guide Today
Discover tips to ensure you keep you and your family safe from the dangers of asbestos exposure.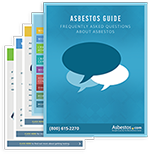 "Canadian industries have been innovators in producing asbestos-free products,
St-Denis said. "Canadian industries that produce asbestos-free materials are competing against harmful counterparts being imported daily."
Citing the World Trade Organization's ruling validating the rights of member states to prohibit the import and use of carcinogens or goods that contain carcinogenic substances, St.-Denis said that imposing a ban on asbestos imports would pose no trade risks to Canada.
A Ban Today Saves Lives Tomorrow
Asbestos-related diseases typically take decades to develop. Mesothelioma has a latency period of 20 to 50 years.
Early detection of mesothelioma is a major key to longer survival.
While asbestos or asbestos-containing products are no longer mined or produced in Canada, experts predict asbestos health issues will rise in coming years.
Comprehensive bans not only help prevent future cases, but they also provide more sensible oversight on workplace practices and make more resources available for people with asbestos-related diseases, as well as those at risk.
Yussuff emphasized the need for governments to work with First Nations, the various Aboriginal Canadian groups.
"We must ensure we move to protect everyone living in Canada from exposure, including those living in First Nations housing filled with asbestos-ridden vermiculite insulation," he said.
The Future of Asbestos in the US
With Canada embracing an asbestos ban, the U.S. remains one of the few major industrialized nations that have not banned the carcinogenic mineral.
Through a series of legislation, asbestos is highly regulated in the U.S., but it continues to be used in gaskets, friction products, roofing materials, fireproofing materials and hundreds of consumer products as long as it accounts for less than 1 percent of the product.
And because of heavy use through the mid-1980s, asbestos is still prevalent in homes, public schools and office buildings today.
The U.S. took some important steps last year in the fight to ban asbestos.
President Barack Obama signed the Frank R. Lautenberg Chemical Safety for the 21st Century Act into law. The legislation overhauls how the government regulates toxic chemicals, amending the Toxic Substances Control Act (TSCA) of 1979.
Former U.S. Sen. Barbara Boxer, D-Calif., introduced the Alan Reinstein Ban Asbestos Now Act on Sept. 28, 2016. The proposed bill goes beyond the reformed TSCA to prohibit the manufacture, processing, use, distribution in commerce and disposal of asbestos within 18 months.
The Environmental Protection Agency (EPA) made an important move to close out the year when it added asbestos to the top 10 list of substances the agency must review in accordance to the reformed TSCA.
"EPA made the right decision to include asbestos in the first 10 chemicals it will review under the new TSCA law," Boxer said in a statement. "Asbestos is one of the most harmful substances known to humankind, and asbestos has been the poster child for TSCA reform. Hopefully asbestos will be banned and thousands of lives will be saved."
Sorce: asbestos.com